Don't be fooled; direct mail is still valuable.
With social media marketing, email marketing, search engine optimization and many other digital marketing avenues, many business owners mistakenly believe that direct mail marketing is dead. And can you blame them? There is a widespread myth in the digital marketing industry that direct mail marketing no longer has any place in the marketing world, and they have sold that to the public effectively. However, the experts at Worcester Envelope company are here to tell you that not only can direct mail marketing bring value to you as its own marketing channel, it can also be a beneficial addition to your digital marketing efforts, andit could even help to boost your online presence.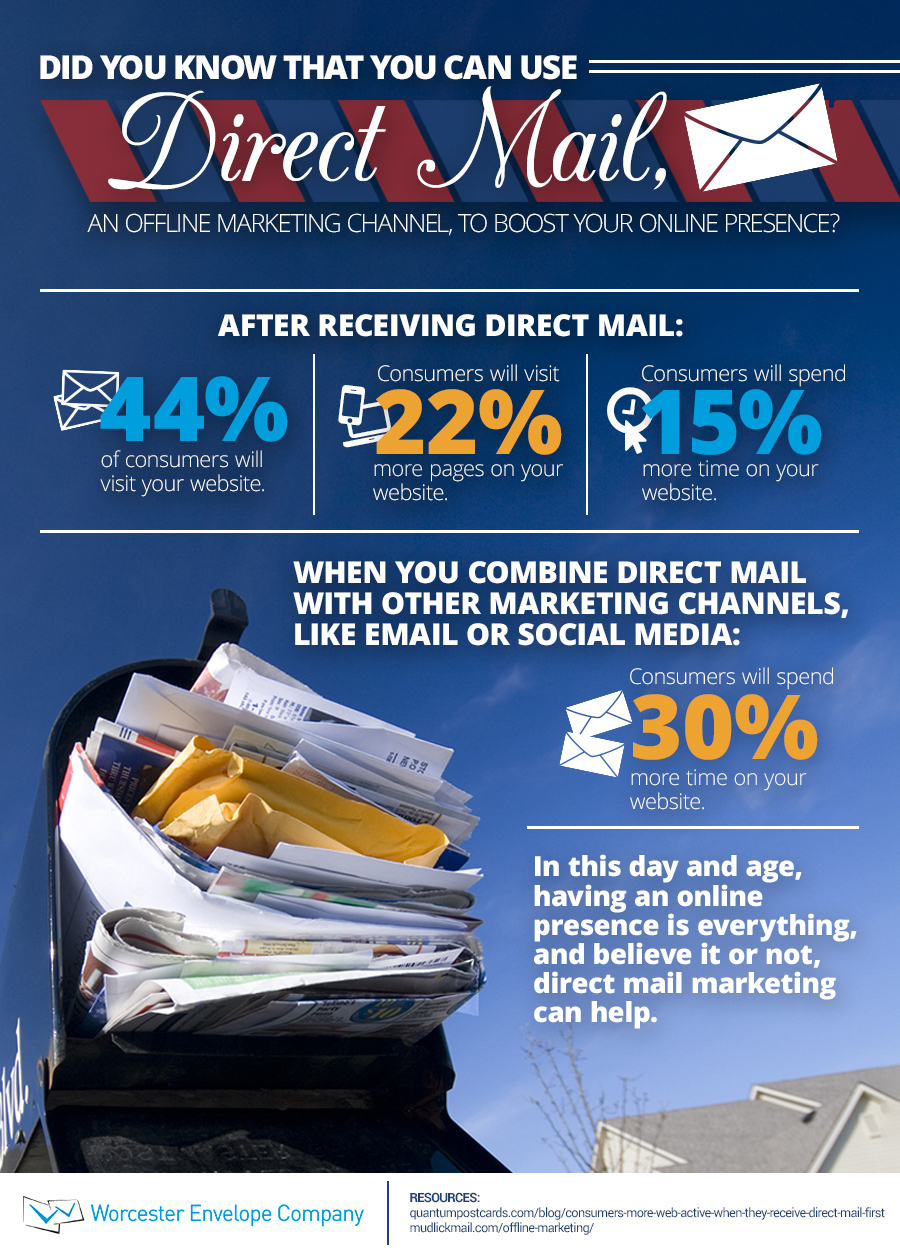 How does an offline marketing strategy, like direct mail, affect your online marketing strategy?
When used cohesively with your digital marketing efforts, a direct mail campaign can help to improve the number of organic visits you get to your website, the number of followers you have on social media, your website's conversion rate, the time spent on your website and so much more. Here is a breakdown of the effects of direct mail on just a few of your digital marketing efforts:
Site Visits – On average, 44 percent of customers will visit your site after receiving a mailer from you. This is because people simply trust in direct mail marketing more than digital marketing. When you send them direct mail, you are tapping into their trust, and once you've earned that trust, they are much more likely to actually visit your website. One retail hub in San Diego found that they had a 26 percent rise in traffic to their site once they sent out mailers for the holiday season.
Social Media – When you integrate your direct mail campaign with social media marketing, it translate into more followers, likes, shares and more. This goes back to the trust issue. Sure, you can buy an ad on Facebook, but consumers are much less responsive to ads because they have less trust in them. What consumers do trust is the recommendations of their friends and family, and also direct mail. The trust that your audience has in direct mail can help you gain followers, and the more followers you gain the more followers you'll be able to earn when your content gets shared and liked.
Time on Site – Did you know that the shoppers who interact with your company through more than one marketing channel will spend an average of 30 percent longer on your website? When your customers already feel like they know and trust you because your direct mail marketing campaign, and they also have a specific reason to go to your website, again because of your direct mail efforts, they'll spend more time on your website! The more time your audience spends on your site, the lower your bounce rate will be, and that can even help to improve your organic rankings.

The moral of the story? It's a mistake to completely ditch direct mail for digital marketing. Get the most out of your direct mail campaign, and your digital marketing efforts, with custom printed envelopes from Worcester Envelope Company. Visit us online now to learn more.